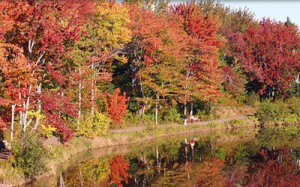 Watauga Lake NC is a stunningly beautiful lake in northeastern Tennessee. It is often hailed as the most beautiful lake in the Appalachian Mountains and it is the highest elevated lake reservoir in Tennessee. Located in Carter and Johnson Counties in a rural setting in Tennessee, Watauga Lake is secluded and accessible only by a serious of winding mountain roads. It is surrounded by the Cherokee National Forest and numerous nature and wildlife preserves.
One fantastic thing about this lake location is its easy convenience to other mountain areas. It is west of Boone, southeast of Bristol, southwest from Damascus and just northeast of Johnson City. Click to find properties of Watauga Lake TN Real Estate that are currently listed for sale.
The area around Watauga Lake NC and in Butler, Hampton, and Elizabethton are great places to search for potential investments in vacation rentals as more and more folks learn about the beauty of the lake and desire to stay here for getaways. I'd be happy to represent you as a buyers agent and help you make your dreams of owning lake property on Watauga Lake a possibility.